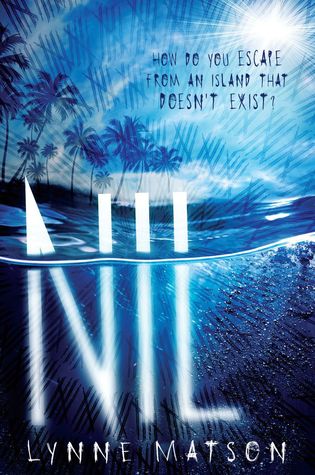 NIL is a story of survival and self-discovery. When Charley is mysteriously transported to the unmapped island of Nil she must learn the rules and survive a year of deadly animals, gate-hunting, and new romance. Nil is a beautiful island paradise, haunted by the ghosts of those who have gone before and the howls of whatever dangerous beasts have been dropped in by gates. Charley is taken into Nil City by Thad, the current Leader, and initiated into the tribe of teenagers Searching for their personal gates out of there.
"The bright blue sky remained cloudless, and the aquamarine ocean still crashed gently onto the white sand beach, but the scene was suddenly warped. Twisted, as I processed Thad's words."
What I loved: The characters. Lynne Matson is a master at character creation and development. All of the Nil tribe were great people, fully rounded characters, believable, and people I would actually want to be friends with. Except for Bart and Sy. I mean, they were kind of shifty. But they were real guys, and they were very well done.
Thaddeus Blake. This boy is everything I typically don't go for in guys, but I loved him so much. The way he talked and thought - so well written. His dialogue was perfect. And I mean perfect. I don't use this word lightly. Dialogue is something that I think can make or break a book, and Lynne Matson blows it out of the water with Thad's skater-kid drawl and unique humor. Add his glorious lazy grin to that, and you have a perfect protagonist.
Charley is a great girl. Charley is, quite frankly, a badass with a vulnerable side. She's also the kind of girl I can't relate to; the sporty girl I would never have been friends with in high school; a tall and beautiful girl I wouldn't have given a second look in the hall. She's not my type, just like Thad. Despite that, I loved her. I wanted to be her friend, I cheered for her and cared about her.
The romance between Charley and Thad is so real. There was fiery insta-love between them the first time they saw each other.
"I didn't want to leave Charley tomorrow. And part of me-the terrified part that kept me awake at night-whispered that I didn't want to leave Charley EVER."
But then they worked for it. Love sure as hell isn't easy, and this couple had to fight really hard to make a friendship work, let alone a relationship. Nil is one of the worst places ever to start a new relationship, and Charley and Thad have to compensate for that. They make mistakes and they hurt each other. And then they work it out. They try, so very hard, for each other. I was really impressed with their relationship.
What I wanted more of: Everything. And there's going to be a second book, so I have that to look forward to!
NIL was a fast-paced page-turner that kept me up late at night until I finished it. I very highly recommend it! Lynne Matson's debut is a masterpiece of survival science fiction!