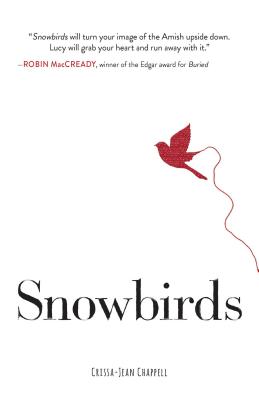 2017 is merely days away, and if you recently received gift cards to your favorite local bookstores or online bookshops, you may be anxious to redeem them. Here are seven titles coming out in 2017 that may appeal to this blog's readers - and to this blog's writer, too! :)
I have always been fascinated by Rumspringa, a rite of passage for teens in some Amish communities.
Snowbirds by Crissa-Jean Chappell,
coming out first thing in January, follows Lucy as she searches for her best friend Alice, who has disappeared in the middle of Rumspringa. "I really hope she finds her," I said to myself when I read the book summary; I am also simultaneously steeling myself for something akin to
As Simple as Snow by Gregory Galloway
, just in case...
Three February titles are attracting my attention: the illustrated novel
Grim Death and Bill the Electrocuted Criminal by Mike Mignola and Tom Sniegoski
, the anthology
Here We Are: Feminism for the Real World by Kelly Jensen
, and the novel
We Are Okay by Nina LaCour
.
Mignola, famous for creating
Hellboy,
among other things
,
teams up with my pal Tom Sniegoski for an illustrated pulp novel about two unusual heroes fighting evil and seeking justice. If you like Mignola's collaborative works with Christopher Golden, like
Baltimore
and
Joe Golem and the Drowning City
, check out
Grim Death and Bill
.
Here We Are: Feminism for the Real World by Kelly Jensen
features pieces from 44 different contributors, including illustrators, musicians, novelists, dancers, and leaders. I feel like Leslie Knope from
Parks & Rec
would appreciate this book
.
Sending a virtual high-five to Kelly for assembling these essays and illustrations.
If you haven't read a Nina LaCour novel, you are missing out, and you need to rectify that immediately. Go get
Hold Still
and her other works
,
read 'em and weep, then prepare for her next book,
We Are Okay
. The protagonist is halfway through her first year of college, so this book is ready for readers in that end-of-teens/early-20s spot who are searching for a story that reflects their current experience.
Ararat by Christopher Golden
comes out in April. It's adventure time: A newly-engaged couple climbs Mount Ararat in Turkey, gets hit by an avalanche, and discovers a cave that some believe is Noah's Ark. When they uncover what's really trapped inside the vessel - and when they, too, are trapped by the blizzard - things get even stranger, and deadlier. I'll read anything Christopher Golden writes, and as I am not one for climbing mountains or going outside during a blizzard, I look forward to reading this page-turner while bundled under a multitude of blankets and drinking cocoa and shouting things like, "Go back! Go back!" to the characters, even though I know they can't hear me. Golden's books are like movies pressed between two covers.
Sarah Dessen's thirteenth novel Once and for All
will be available in June.
The main character, Louna, is the daughter of a wedding planner. Typically told in first-person and led by a female protagonist trying to make her way through this world, Dessen's novels appeal to those who like realistic contemporary fiction with elements of romance, family, and community.
September will bring us
Alexander Hamilton, Revolutionary by Martha Brockenbrough
. Between the buzz of Lin-Manuel Miranda's Tony award-winning musical
Hamilton
and the presidential race, 2016 brought politics to the dinner table, the watercooler, and school cafeterias alike, igniting conversations between people of all ages. Those who dug
Hamilton
(like me!) might be interested in picking up this non-fiction book and learning more about the ten-dollar founding father. Just you wait...
These are just seven of the books I'm looking forward to checking out when they are released in 2017. There are plenty more where that came from, and
I have a running list of them
at my blog,
Bildungsroman
. What 2017 releases are you aching to read? Leave a comment below and let me know! Happy holidays, everyone!