These two aren't particularly new, but they are vastly entertaining, each in their own way.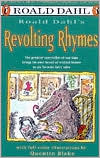 First up,
Revolting Rhymes
, from Roald Dahl, author of such classics as
James and the Giant Peach
,
Matilda
and
Charlie and the Chocolate Factory
.
As you might expect from Dahl, his take on well-known fairy tales is a bit, well, twisted. In
Revolting Rhymes
, Dahl presents us with fractured and semi-frightening versions of six favorite fairy tales, told in rhyming verse. He begins the "real" story of Cinderella (in which the Prince proves to be a homicidal maniac), Jack and the Beanstalk (the moral of the story? "take a bath"), Snow White and the Seven Dwarfs (actually, seven ex-jockeys with a betting habit), Goldilocks and the Three Bears (about Goldie's breaking and entering), Little Red Riding Hood and the Wolf (in which Red goes a-hunting), and the Three Little Pigs (in which Red goes a-hunting again). Some of the words used dabble in the four-letter variety of the naughty type (not of the "George Carlin dirty words" type, but still, "hell" and "slut" and others make an appearance); as a result, some folks have asked for it to be banned and/or relegated to the adult section. But if you liked Dahl's stories when you were a kid, his poems are just the thing for you.
My second selection today was designed for an older crowd, and includes some
truly
revolting rhyme from folks who generally write fantasy, science fiction and horror:
If you like slightly naughty, decidedly macabre poems (and who doesn't?), check out
Now We Are Sick: An Anthology of Nasty Verse
, edited by Neil Gaiman and Stephen Jones, with illustrations by Andrew Smith and Clive Barker. The poems are from thirty of the world's best-known sci-fi, fantasy and horror writers. Most of them are somewhat funny (in a very black-humor sort of way). I am particularly fond of Galad Elflandsson's pirate poem
The Good Ship "Revenger"
,
Something Came Out of the Toilet
by Harriet Adam Knight,the delightful
Things that Go Bump in the Night
by Ian Pemble and Diann Wynn Jones's
A Slice of Life
, which evokes a
Sweeney Todd
-like school lunch program.
Here's a sample from "Something Came Out of the Toilet" by Harry Adam Knight:
Something came out of the toilet,
Slimy and shiny and thick.
It looked like a gelatinous drainpipe
And smelled quite distinctly of sick.

It had some sort of hole at its top end
Like a mouth or a hollowed-out eye
Or a nostril that maybe it ate with
Or an ear through which it might spy.
Now We Are Sick
is separated into the following sections: "Nasty Habits", "In Loving Memory", "Less Welcome Tenants", "Night Fears", and "Adults Only", and it is bookended by an "Introduction" and and "Epilogue". Many of the poems contain humorous content (of a sort); all of them include material that some (okay,
many
) people will find objectionable or disturbing, which is part of what makes this collection so much, well, fun.
For the Lewis Carroll fans out there, I particularly recommend "You Are Dead, Father William" by Colin Greenland (who specifically says his poem is "After Lewis Carroll" - Carroll's poem, "You Are Old, Father William" was actually a parody of Robert Southey's poem, "The Old Man's Comforts and How He Gained Them"). Here's how Greenland's parody starts:
"You're deceased, Father William," the young man said,
"And your skin has become very green.
But you stroll down the boulevard toting your head:
Don't you think this is a trifle a obscene?"

"In my youth," grinned the spectre, "I read many books
By Campbell and Barker and King
Which convinced me that lipless, cadaverous looks
were demonstrably every year's thing."