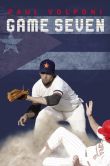 I was so glad to stumble across this new book by Paul Volponi.  I know several readers who read and reread anything he writes.  GAME SEVEN won't disappoint them.

Julio is sixteen and dreams of playing shortstop for the Cuban Nacionales.  He was raised with baseball in his blood.  He has memories of playing catch with his father and still plays with the glove Julio Sr. gave him.  Unfortunately, the man who taught Julio to play may become the reason Julio isn't chosen to represent Cuba. 

His father was a star pitcher for the Cuban team until he defected to the United States.  Julio Sr. made the decision to leave his wife and two children behind on the fateful day six years ago when his name was erased from the Cuban baseball record books.  

read more