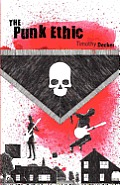 Timothy Decker's illustrated novel
The Punk Ethic
explores the power of music in the lives of seemingly disaffected youth. Guitar-playing protagonist Martin is struggling to find a reason to succeed in a world that appears all too happy to let him disappear. Financially, life is a constant struggle in his single-parent household, and his friends are a collection of likable if somewhat annoying idiots who have no clue what their futures will hold. He is in love with an impossible Dreamgirl (shades of
Some Kind of Wonderful
) and, inspired by a class assignment, has a wild desire to change the world, but little ability to do so. What he needs is a plan, a plan so big that it will make his life the sort of wild and dramatic life he has been afraid to imagine. In one month it all comes together, in the sort of ridiculous fashion one would expect for teenagers, but the story remains hopeful and stays true to its cool music roots at the same time. There is nothing saccharine or sparkly about
The Punk Ethic
(perish the thought) and the text is in fact peppered with the sort of wry observations that any high schooler would appreciate: "If the federal government really wants to change public schools and ensure that no kid gets left behind, they should close the cafeteria and call it a threat to public health." Or consider this look at the opposite sex:
"Goth girls live in a dream world, all operatic nonsense and crappy literary allusions... It's complete bullshit. That's why they go to college, wash off the makeup, and become GOP lobbyists. At least punk girls are honest."
Decker takes Martin along on a journey that sees him realizing the punk ethic of "do what you can with what you have," and tosses in more than a few significant moments about book learning versus the real world (both of which are to be valued) and why high school matters (for many reasons other than what you think). The illustrations and surprisingly intense ending all lift
The Punk Ethic
to a level of appreciation that makes it a memorable read. Don't let this quiet beauty pass you by; Decker has a story to tell worth reading and Martin, quietly depicted in so many black and white drawings, is a character to hold dear.
Cross posted from my August Bookslut YA column