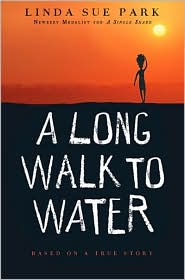 A Long Walk to Water
by Linda Sue Park tells the story of two children in Sudan - one is Nya, a contemporary Sudanese girl observing the drilling of a well and the construction of a school in her village with the help of the people from
Water for Sudan.org
, and the other is Salva Dut, whose story occurred in 1985, when the civil war came to
his
village in Sudan. Salva ran into the bush to hide from the soldiers, eventually escaping as one of the "Lost Boys of Sudan". Salva is an actual person, whose story is much like that of the young Salva in Park's book - although in truth, some of the actual events in his life were far worse and more horrifying that Park depicts.
Both Nya and Salva lead rather difficult lives. Nya walks hours each day - twice a day - to get to the nearest source of water. Nya's trip to the well is long, hot and tiring, but the trip back, carrying water to her family, is harder still. Boys her age walk hours each day - once a day - in order to tend their family's herds. They spend much of their time near the water source, sometimes hunting for something to eat for lunch, then return home later in the day.
Salva's story begins in a school room, on a day when class is interrupted by the sound of guns. His teacher tells the boys in the classroom to run into the brush - under no circumstances are they to go home, or they will be found and either killed or forced into the militia. Salva's long trek across the desert includes harrowing encounters with wild animals, harsh living conditions, and humans who are not always friendly or helpful, although some are.
The book alternates chapters between Nya and Salva - conveying the history of the conflict in Sudan, describing Salva's escape from his country and emigration to the U.S., and, at the same time, allowing readers to learn what became of that young boy who ran from his home when he was only 13 years old. In fact, we learn that he founded Water for Sudan, an organization that is committed to drilling wells in southern Sudan, but that links the drilling with important ideas like the construction of a school.
An engaging read suitable for middle school kids, but definitely interesting to teens and adults as well, this story uses Park's considerable skills with fiction to convey the essential truth of the situation in Sudan (historical and contemporary), staying true to the core of Salva Dut's story (thereby explaining the subtitle "Based on a true story").