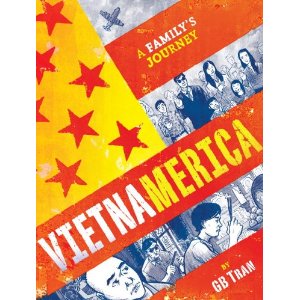 Arist/writer
GB Tran
is the first American-born son of a couple who fled Vietnam during the fall of Saigon. Though "fall" is a multi-layered word in this context, connoting loss (from an American perspective), and that mid-70s moment that represented the first time Vietnam had been united under its own rule, after battling the French, Japanese and Americans (of the recent conquerors -- there were the Chinese before that).
That their first "unified" government turned out to be as radically imperfect as the ones it replaced, is all too typical of history, and here, we see the stunning nexus of family, national, and global histories, the last two constantly affecting the first.
In
Vietnamerica
, Tran gives his account of growing into adulthood, an American future as a videogame-playing graphic artist ahead of him, while finally becoming curious about what his own family's role in those previous events (and the role of events in his family) actually was. And curious, too, how it came to be that he was the first native-born American among his half-sisters and secret-wielding parents. Like a peeled onion, much of the structure in this graphic novel is curled and a bit scattered, and with the cross-cutting and time-shifting -- between his father's and mother's families -- you're not always sure whose story you're following. But by the last act, with a shattering, unresolvable reveal about his paternal grandfather, and a series of splash panels leading up to his parents' nose-hair escape, you're riveted.
As a side note,
Vietnamerica
shares a title with an earlier prose book, about the "homecoming" of Vietnamese kids fathered by U.S. serviceman, who, abandoned in Vietnam, were airlifted back here some decade-plus later.
This isn't that, but Tran-- who, I'm given to understand, was discovered by his publisher at artists' alley at the San Diego Con -- tells of homecomings here too, in the sense of people reconciling themselves to who and and where it is they come from, and just as importantly, where they find themselves at now. Here it's a multi-generational task, not just a young person's. Or as he notes, "a family's journey."
A journey where "home" is often the hardest thing to find. But this is fine take-along reading for your rucksack, when you're on similar travels of your own. Or sitting exactly where you're at, right now.