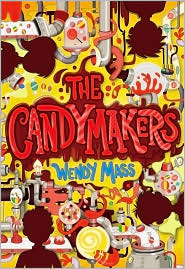 The Candymakers by Wendy Mass
"Four children have been chosen to compete in a national competition to find the tastiest confection in the country. Who will invent a candy more delicious than the Oozing Crunchorama or the Neon Lightning Chew?
Logan, the Candymaker's son, who can detect the color of chocolate by touch alone?
Miles, the boy who is allergic to merry-go-rounds and the color pink?
Daisy, the cheerful girl who can lift a fifty-pound lump of taffy like it's a feather?
Or Philip, the suit-and-tie wearing boy who's always scribbling in a secret notebook?"- summary from Amazon
I don't know how she does it, but Wendy Mass just hits it out of the park with every book I read by her. The way she writes her characters make them compelling, realistic, and hard to leave behind when the book is over. Even though the book is 450 pages (it's a surprisingly quick read), I still felt sad when I got to the last page and had to leave these wonderful characters behind.
What's fun about this book is that it's told in 5 parts- the first four give each character to give their own account of the two days spent at the candy factory and then the fifth goes back to Logan for the night before and day of the contest. It was interesting to read what each character was thinking during a particular scene but it also didn't get repetitive as the same scenes weren't focused on in each part. Not only that, but I really enjoyed the callbacks to previous sections and having to piece the puzzle together as the story went on. What was also cool was the various prior connections between the four kids that come out as the novel goes on.
The humor in this book was fantastic. I was laughing out loud many times during the course of the book. It was wonderful. Also, candy will have to be present while reading this novel because the kids take a tour of a candy factory and of course have to make their own candy as well, and Mass doesn't spare on the descriptions. It was sad for me because I was poor at the time of reading it so I couldn't go out and buy some candy to munch on. It was amazing too to read all the fun candy names and descriptions she came up with for the factory to have, as well as the contest entries too.
I think boys will enjoy this book because who doesn't love to hear about candy and how it's made? Even though there is a female narrator, it's only for about 90 pages and has a fun twist to it that I think boys will really like to hear about.
Overall, this is a wonderful middle-grade novel with a fun and fast storyline but with some great depth to it. A must-read!